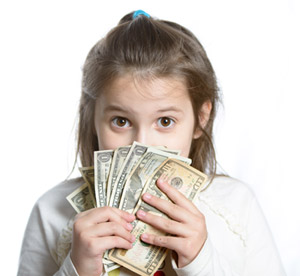 Today I want to share with you an awesome money management tip to use with your children or grandchildren. I'm blessed to work with an amazing group of Christian clients and prospects. Many of them challenge me on a daily basis to improve my own walk with the Lord and they often share words of great wisdom.  Just recently, I was meeting with a couple who are missionaries with Family Life. I continue to be amazed at the caliber of the staff that comes from this ministry! While we were talking, they mentioned a strategy that they used with their own children to help them become wise financial stewards. They got the idea from author Mary Hunt (link provided at the end).  The concept is so simple but brilliant that I just had to share it with you.
So, here is what you do. When your children are old enough (6th grade might be a good starting point), begin handing over some of the day-to-day money management tasks you have as a family. For example, you could put them in charge of buying their own meals or clothes. Decide how much money you'd like to entrust to them for these tasks and let them take on the task of spending the money wisely. You're not really out any additional money because this is the money you would have spent on them anyways. The idea is to give them real life money management tasks to hone their talents. This teaches them responsibility on a small level while they're young.  If they blow their cash for food on a big, juicy steak, they might only have enough later for Ramen noodles!  These are great learning experiences.  Many children will also learn to cut spending so they can save for something they really want.  Delayed gratification is a powerful principle to learn (remind me sometime to tell you about the 'Marshmallow Study')!
As they grow older, you can begin introducing more and more money management tasks for them to handle. The idea is that by the time they are 18, they will already know how to handle all of their day-to-day financial needs. This is real life, practical teaching that all of us could use!
The alternative isn't very pretty, yet it is what most of us do. All too often we take care of all our children's spending decisions until they grow into young adults. We then toss them out into the real world without any real-life experience and just hope they get the hang of it without making any major mistakes. It's almost like tossing a child into the deep and and saying, "Ok, sink or swim!  Go for it!"  As a financial advisor, I can tell you that more often than not, mistakes are indeed made. Sadly, these mistakes often end up haunting them for many years to come.  Young people entering the work force and beginning a family have enough pressures in life.  They certainly don't need any added financial burdens to make things even more stressful and challenging!
The bottom line is this: all to often, children never learn the essential money management skills at home, at school, or at church.  They learn from "The School of Hard Knocks."  I don't know about you, but I hate that school!  Instead, let's consider how we can use this idea to better prepare our children and grandchildren to wisely manage the resources God provides to us.
There was a book that taught how to structure such a plan with your children, but it appears to be unavailable direct through Amazon.  I'm still providing a link because you may be able to locate a copy through other sellers.  Also, the author has written other books that you may want to consider.  I've linked a second book which was published in 2012 that likely covers the same material and more.