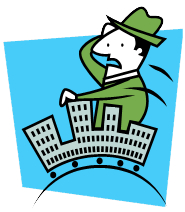 We have been pretty spoiled with sizable growth of the stock market since the big drop in 2008. For over a year now, we've been ramping up our warnings about a potential market decline. Even through a shaky economy, the stock market has continued to soar upward. The incredible double digit gains we've experienced the past 6 years just simply cannot be sustained forever. This is why we haven't been overly-surprised by the recent volatility and losses on the stock market. The rollercoaster rides seems to have gotten a bit bumpy recently!
The Wall Street Waltz
It is important to keep in mind something often referred to as "The Wall Street Waltz." The moves go like this: three steps forward, one step back, three steps forward, one step back. Ok, it isn't exactly an exciting dance, but the idea is that the markets on average have about 3 good years for every 1 bad year. Sometimes they come in bunches such as 6 steps forward and 2 steps back, but if you divide it out over the long run it comes out as a 3 to 1 ratio. That being said, it is reasonable to assume that we were due for a step back.
What Has Happened?
When big swings in the market hit, it is easy to get nervous and make investment mistakes. In one day last week we had a 400 point plunge of the DOW in one day. That's a significant drop! Sure, it pales in comparison to 2008, but it still doesn't feel too good when it happens. As of October 15th, the S&P 500 Index dropped 7.4% from its September high and the Russell 2000 Index (small company stocks) dropped 11.2%. Even worse, foreign stocks as measured by the MSCI EAFE Index fell 15%. [source: BigCharts.com]
What Caused the Drop?
For the most part, the recent drop is due to concerns about a possible global economic slowdown. That just means that people might not buy as much as they have in the past which means smaller profits by corporations which means a lowering of stock prices. There are a lot of factors that feed into this kind of thing so there is no way to predict which way the markets will go from this point. Why predict a global economic slowdown? Government seems to be tapering off their "quantitative easing," which for the most part was a failure. While it didn't do much to help job growth, it did allow stock prices to rise even if superficially. There are also other big headlines that add risk which fuels the volatility: Russia/Ukraine conflict, Ebola, and concerns of stock market valuations to name a few.
What to Do?
In most cases, nothing. If you have a diversified portfolio and your objectives haven't changed, the best thing to do is often nothing at all. No one has ever been successful at long-term timing the markets so the best advice is to hold tight and ride out the ups and downs along the way. Successful investing can sometimes require nerves of steel. Just look back to 2008 and think about how hard it was to hold onto your investments when the markets were in a free-fall. Those who held on for the ride and committed to holding their investments were rewarded with some tremendous stock market growth the next 6 years. Those who sold out missed the opportunities for recovering their losses and growing beyond their previous peaks. Nobody said being a wise investor was going to be easy!
What Will Happen Next?
It's anyone's guess. The markets may have already had enough of a correction for now and they might renew their upward trend. Or, we may have more drops to endure. It is a popular thing these days to make graphics, T-shirts, and signs that say, "Keep calm and __________." Some examples include…
Keep calm and carry on
Keep calm and eat a cookie
Keep calm and go shopping
Keep calm and grow a mustache
Keep calm and make coffee
Keep calm and pray hard
Let's add another… Keep calm and invest on!
Of course, if you have any questions or concerns, don't hesitate to call. We are here to help you succeed with investing!