Christian Financial Principles is a national financial planning and investment management firm dedicated to building wealth for clients in a Biblically-responsible manner. We have over 50 years of combined experience in the financial services industry. Our company has become a leader in the area of Biblically-responsible wealth management. Our vision is to help Christians meet or exceed their financial goals utilizing products and services that are not only superior in strength and performance, but also embrace Christian values.
Our Guiding Principles
We will continually strive for excellence in our products and services. As independent practitioners, we will shop for the most competitive and appropriate products and provide exemplary stewardship-driven service at a fair price.
We will maintain the highest levels of integrity and honesty by offering alternative appropriate solutions to our clients needs and by discussing the pros and cons of each solution, always keeping in mind the best interests of our clients.
We will incorporate the Biblical principle of stewardship in all aspects of our business and encourage our clients to consider stewardship as the foundational principle of life. We understand that stewardship begins with the acknowledgement that God owns everything and that He holds us responsible and accountable to manage His possessions in a manner pleasing to Him.
We will strive to relate holistically with our clients when discussing and planning their finances, taking into account the spiritual and emotional dimensions of any decision they are considering.
We will begin each day and each client meeting with prayer.
We will adhere to Biblical standards in all our decisions and actions, seeking wise and Godly counsel when needed.
We will honor frank and honest assessment and accountability of our lives and practice.
Meet the Team
Home office based in Hot Springs, Arkansas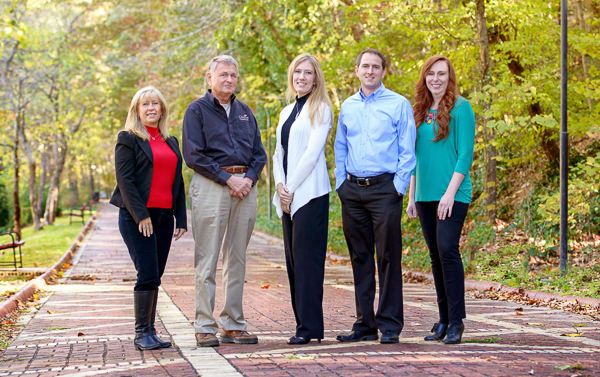 From left to right:
Mitzie Stevens, CPA and an Investment Advisor Representative
email
Katrina Robertson, Investment Advisor Representative
Ashley Harris, Office manager
email
Why Us?
We don't look just at your investments. We look at your total financial picture! After we learn more about you, we design a plan that helps you achieve those goals. Yes, the investments are important, but only in relation to accomplishing your goals in life.
Once you've decided to work with us, we do everything we can to make your transition to Christian Financial Principles an easy one. From completing account paperwork, monitoring account status, and setting annual reviews, we do the leg work for you each step of the way. We do our best to make a complicate industry as simple as possible!
Technology can be a great asset in the financial planning world! Not only does it help us to prepare comprehensive financial plans and strategic investment portfolios, but it also helps us communicate our proposals to you, the client! This has allowed us the privilege of working with clients all across the country! Our goal is to leverage technology to help you clearly understand our proposals. Here are a few examples of what we're talking about:
Online forms to collect client information
Personalized, narrated web videos to explain the proposals we have prepared for you
Online account access if desired
Industry-leading software to monitor our clients' investments
Live webinar-style meetings for clients unable to visit face-to-face
We love what we do! We are blessed to work in an industry where we form wonderful relationships with our clients and are able to help them to plan and save toward their goals. What, that doesn't sound like fun to you? Well, we love it! To us, this has become more than just a job, but also a ministry and passion!
Not only do we seek great performing investments, but we are also able to screen out industries that violate Biblical principles!  If we are "stewards" of God's money, do you think He would want us to invest in things like abortion, pornography, gambling, or companies pushing the radical homosexual agenda?  Surely not!  We feel it is an important stewardship responsibility to consider not only the profits, but also the values of the investments we choose for you.
We are proud to be an organization of independent financial advisors!  This means we do NOT sell proprietary products.  Being independent allows us the ability to select almost any investment on the market.  More choices means more options for you and your family.  Our loyalty is to you, not the investment companies we work with.